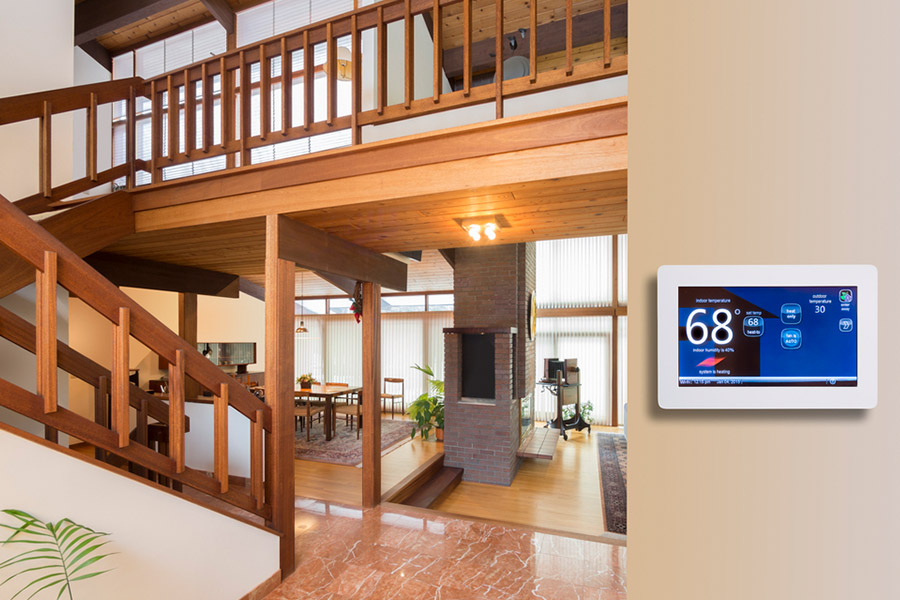 Does It Make Sense To Install A Smart Thermostat In Lake Havasu?
Modern smart thermostats have advanced well past the point of being just a simple dial or switch for controlling your home's comfort levels. If you would like to install a smart thermostat in Lake Havasu, you're going to gain a wealth of comfort with much less work. Offering the benefits of easy Wi-Fi access, temperature settings for multiple zones, and integration into your home automation network, these innovative controls will reduce utility bills and improve your home's overall comfort and safety.
What Are Smart Thermostats In Lake Havasu?
Once installed, your smart thermostat will operate in a similar manner as the old version in regards to standard functionality. The style may be a bit more elegant, but you'll have the same ability to view the current temperature. You'll still have the chance to adjust the temperature directly at the unit, and your thermostat will still allow you to choose from cool, heat, and fan.
However, when you install a smart thermostat in Lake Havasu, you will enjoy a whole host of advanced possibilities. This is due to the fact that this HVAC component is connected wirelessly to a larger system, like your Google smart speaker or your comprehensive home security. Using a smart hub or smartphone app, you can program your smart thermostat to change the comfort levels by itself at whatever times you choose or to react to different stimuli. In the end you have a home that's more comfortable and energy-efficient.
It Makes Sense To Install A Smart Thermostat in Lake Havasu
There are various justifications for switching from your standard unit to a smart thermostat:
● Ease of control with a smartphone app. You can direct the thermostat from a distance with a smartphone app like the intuitive platform from ADT. Are you feeling a bit overheated while you're attempting to fall asleep? You can easily open your phone and turn on the air from your bed. You might even monitor your house's comfort levels when on holiday with family, and adjust the heat to conserve energy if no one's at home.
● Take advantage of scheduling. Your smart thermostat allows you to implement a schedule for heating and cooling. Set various temperature adjustments to best fit your lifestyle. Reduce the heat for bedtime, then increase it in the morning an hour or so before you arise. You might even create heating or cooling scenes based on "events" -- for example a scene for entertaining or one for when the fireplace is being used.
● Save energy by using home automation. A great benefit of smart thermostats is that they will lower utility costs. You are able to easily adjust the temperature as needed due to the season, weather, or time of day. You'll never waste money heating an empty house. Additionally, when implementing schedules, your smart device changes the temp automatically. A range of energy providers also provide incentives and rebates for qualifying models or situations.
● Utilize vocal directives to control your property. If you elect to install a smart thermostat in Lake Havasu, you can also configure it to work with a smart speaker device from Amazon or Google. This offers the chance to adjust the temperature through simple spoken commands.
● Join your thermostat to various home automation items. In the event your smart thermostat is integrated within an overall home defense package, you're able to join all your devices into a unified network. This helps safeguard your house from environmental emergencies. For example, you may direct your thermostat to activate the HVAC fan if your smoke detector is triggered.
Make The Switch To A Smart Thermostat In Lake Havasu Today
If your old thermostat falls short of meeting your home comfort requirements, you should consider upgrading to a new "smart" model. These wirelessly connected components are stylish, a cinch to control, and can save money in the long run. The greatest advantage is when you combine it with a state-of-the-art home security system. Reach out to us today at (928) 888-9023 or send in the following form to order your smart thermostat in Lake Havasu.
Communities Served Around Lake Havasu By Secure24 Your Local ADT Authorized Dealer